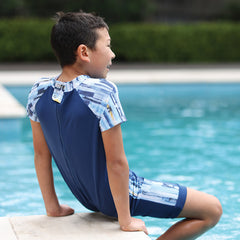 We are super excited to introduce a Back Zip swimsuit to the Wonsie range. It is designed to prevent unwanted undressing and nappy access when having fun at the beach or in the pool. The surfsuit style offers high UV protection and is crafted from a durable 4 way stretch fabric in a cool contrast print suitable for all ages.
Available in size 4 Toddler - 18/L Adult
Don't forget, they can be purchase as part of your NDIS consumables funding, just like the rest of our range. Find them here  https://wonsie.com.au/collections/swimwear
It can be teamed up with a swim nappy which is also available on our website.