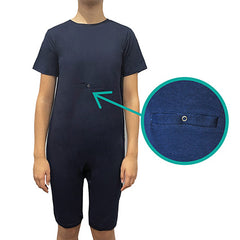 So many people have asked us for it and we're happy to present our first Tummy Access Back zip Wonsie which is the adapted version of our popular short sleeve/knee version.
This is terrific for all those people who need the security of the Back zip, but access for Tube feeding and of course, it go all the way up to large adult.
More colours are arriving, but we have the full size range of Navy right now, with Grey, Pink and Marine also on the way!
Thank you for your patience...it's been a long wait!!
https://wonsie.com.au/collections/back-zip-wonsie/products/navy-zip-tummy-back-short-sleeve-knee-length-jumpsuit-wonsie