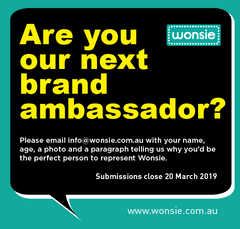 We invite you to be the face of Wonsie for Autumn/Winter 2019. 
This is your chance to share your unique story and show us how Wonsie is making a difference in your daily life. Each ambassador will reign for 5 months and we hope to feature lots of our wonderful, happy customers! We are looking for people who are enthusiastic, positive and keen to share their experiences with our audience.
The chosen ambassador will receive:
A monthly thank you pack which will include a gift card and a Wonsie bodysuit in each pack (total of 5 packs)
A personalised 30% discount to use on our online store to use during your ambassadorship duration. (This discount will also be eligible on NDIS orders)
Tasks for our brand ambassador will include:
sharing some information about yourself and why you love our bodysuits
sending us regular photos of yourself wearing our product
tagging #welovewonsie and/or #wonsieambassador on your social media posts
We encourage people of all ages, male or female with all abilities to apply. If you're a wearer of Wonsie, we want you!
Please email info@wonsie.com.au with your name, age, a photo and a paragraph telling us why you'd be the perfect person to represent Wonsie. If you have your own social media page, please be sure to mention it.
Hurry! Submissions close 20th March 2019 and our lucky ambassador will be announced in April. We may be featuring our finalists in the lead-up to the announcement, so please ensure that you are happy for us to share your entry on our social media. As it was so hard to choose the last ambassador, we encourage the entrants from the previous round to apply again.
We look forward to hearing from you soon.