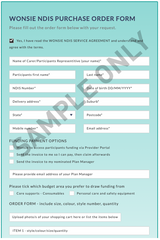 Who likes LESS paperwork! We do!
We have recently streamlined the process of ordering your Wonsies with your NDIS funding. Instead of downloading and filling out forms, we now have an online form which will cover the Service Agreement and the Order form which you can now send to us with a click of a button! This will save you time duplicating information and the hassle of printing and returning forms. 
Use the new form here to place your next NDIS funded purchase.