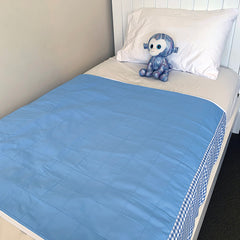 We are excited to announce that we now stock the very practical Brolly Sheets which is a quick and easy solution to changing bedding after those little accidents!
With a soft, comfy 100% cotton top and a breathable, waterproof back – when wet, it only takes seconds to replace. They're also easy to use, to save you time. Simply place on top of your bottom sheet, tuck in the wings and sleep directly on top. Perfect for wriggly sleepers. No more stripping the bed – get back to sleep quickly!
Take the stress and sleepless nights out of bed wetting, potty training, and incontinence with wings to stay put and the ability to absorb up to 2L of liquid.
We have them in 4 different colours/prints and they are available in Single and King Single sizes.
Get yours here:
https://wonsie.com.au/collections/incontinence-underwear